Interior Painting Gudie and Tips Portstewart
A Guide by G&E interior painting
When it comes to giving your home a fresh new look, few things can rival the transformative power of a fresh coat of paint. The right color palette can breathe life into your space, create the breathe life into your space, create the personal style. But choosing the perfect color palette for your interior painting project can be a daunting task. To help you make informed decisions, we've put together this comprehensive guide to selecting the ideal colors for your home.
1. Consider Your Space and Its
Purpose
Before you rush off to the paint store, take a moment to consider the space you're about to paint. What is its primary purpose? ls it a cozy living room, a vibrant kitchen, a tranquil bedroom, or a productive home office? Each room's function should guide your color choices. For example, soothing plues and soft neutrals are often great for bedrooms, while energetic yellows and bright whites can liven up a kitchen.
Your home is a reflection of your personality, and your color choices should reflect your unique style. Are you drawn to contemporary, minimalist designs, or do you prefer a more traditional, classic feel? Knowing your color options. For modern styles, consider clean, neutral colors, while traditional designs might benefit from richer, warmer house.
3. Harness the Power of Color
Psychology
Colors have a profound impact on our mood and emotions. lt's important to understand the basics of color psychology when choosing your palette. For instance, cool colors like blues and greens can create a calming and serene atmosphere, while warm colors like reds and oranges can evoke energy and passion. Keep these principles in mind as you decide on the mood you want to establish in each room .
4. Test Paint Samples
Never underestimate the importance of testing paint samples before making a final decision. Paint colors can look very different on the wall compared to a tiny swatch or a computer screen Paint a small section of the wall or create a sample board to see how the color interacts with the room's lighting, furniture, and decor. This step can prevent costly mistakes.
5. Balance Bold and Neutral
While it's tempting to go all out with bold, vibrant colors, it's often a good idea to balance them with neutrals. Neutrals like whites, grays, and beiges can serve as a backdrop that complements and highlights the bolder house. This combination adds depth and sophistication to your interior.
.
6. Stay Consistent Throughout
Your Home
For a cohesive and harmonious look, For a cohesive and harmonious look,
aim for consistency in your color aim for consistency in your color choices throughout your home. This doesn't mean every room needs to be dentical, but consider using a unifying element, like a particular color or theme, to tie your spaces together
Don't be afraid to seek inspiration from various sources. Interior design magazines, Pinterest, and home improvement shows can offer a wealth of ideas and insights. Take note of color combinations and palettes that resonate with you. In conclusion, color palette for your interior painting .project is an exciting but crucial step in transforming your home. By considering the space's purpose, your style, color psychology, and the importance of testing samples, you can create a beaut ' ' harmonious
Don't be afraid to seek inspiration from
various sources. Interior design magazines, Pinterest, and home improvement shows can offer a wealth of ideas and insights. Take note of color combinations and palettes that resonate with you and your style .
coleraine Portrush Portstewart Ballymoney Limavaday Ballycastle Bushmills
PAINTER & DECORATOR IN PORTSTEWART, BUSHMILLS, BALLYMONEY AND LIMAVADY
Our mission at G&E Interior Painting is to transform spaces into beautiful, inspiring environments through exceptional painting services. We are dedicated to delivering top-quality craftsmanship, attention to detail, and outstanding customer service, ensuring complete satisfaction with every project. We aim to create lasting impressions and enhance the aesthetics of homes by providing professional interior painting solutions. Our team of skilled painters utilizes industry-leading techniques, premium materials, and innovative color concepts to bring our clients' visions to life.
With over 10 years' experience in painting and decorating, our talented craftsmen cover everything from walls, ceilings and woodwork to give the interior of your home a striking new look. Not only do we guarantee quality work, but our team strives to save customers money on new kitchens with our popular kitchen restoration service, leaving your cupboards looking brand new for a fraction of the price of a new installation.
contact us here https://www.gandeinteriorpainting.com/contact/
Coleraine reflects on its rich history as it makes a bid for city status
Thu, December 23, 2021
Coleraine, the site of the oldest known settlement on the island of Ireland, has officially submitted its bid to be declared a city.
The application, made by Causeway Coast and Glens Borough Council, is part of a UK-wide civic honours competition to mark HM The Queen's Platinum jubilee in 2022.
Home to Mountsandel, where Stone Age hunters are thought to have lived almost 10,000 years during the early Mesolithic period, the town is hoping to add 'city-status' to its list of credentials which also includes historic links to St Patrick, football legends and Olympic heroes. As the largest town in the Causeway Coast and Glens destination, it enjoys a central position in the tourism hub surrounded by a UNESCO World Heritage site at the Giant's Causeway as well as four distinct Areas of Outstanding Natural Beauty.
Formally established in 1609 by the Honourable The Irish Society, Coleraine was one of two conurbations developed by twelve London companies in County Londonderry. The Town Hall, which serves as a focal point in the Diamond area, was originally built as a market house by the City of London surveyor in 1742 before it was rebuilt as the present day building in 1855; the Council took ownership just this year.
Limavady
Limavady, Irish Léim an Mhadaidh, town and former district (1973–2015) within the former County Londonderry, now part of the Causeway Coast and Glens district, northern Northern Ireland. Limavady town is on the River Roe 17 miles (27 km) east of the old city of Londonderry (Derry). Its name, meaning "the dog's leap," is derived from a gorge south of town over which a dog of ancient times carried a message of impending danger. Limavady dates from the Plantation of Ulster in the early 17th century; it was settled by Protestant Scots, who built the town's numerous Georgian homes and archways. Services, manufacturing, construction, and tourism are the main economic activities of the region.
The former district of Limavady was south of Lough (inlet of the sea) Foyle and was bordered by the former districts of Londonderry to the west, Strabane and Magherafelt to the south, and Coleraine to the east. The glacially scoured Sperrin Mountains of southern Limavady descend to rolling hills and fertile lowlands in the valley of the River Roe in the centre of the district and then to the flat shores of Lough Foyle in the north. Area former district, 240 square miles (622 square km). Pop. (2001) town, 12,075; (2011) town, 12,047.
Bushmills
The Irish love a drop of whiskey. It's the drink we drink to toast a birth, a death, a special anniversary or just when we need a tonic after a shock! Bushmills Irish Whiskey is famous all over the world. It has over 400 years of history and heritage behind it, to become a world-class drink sought after by whiskey connoisseurs.
The licence was first granted to make whiskey in Co. Antrim in 1608. But the Bushmills Distillery didn't become official until 1784. Hugh Anderson registered the distillery at this time and the Pot Still became the registered trademark. Still used today to denote quality and distinction.
Bushmills fell prey to rising taxes in the 1850s when the tax on grains was increased. Malted barley is an essential component of Bushmills, and when rising taxes hit the barley causing many distilleries to change their recipe, Bushmills stuck to their guns and paid the increase in order to keep consistency. That paid off because as the 1800s and 1900s progressed, Bushmills became an award-winning whiskey, including winning the only gold medal for whiskey in Paris in 1889.
Literary recognition came later, with James Joyce mentioning Bushmills in his epic novel Ulysses. When prohibition ended in 1933, it made Belfast merchant Samuel Wilson very happy indeed. He had bought the distillery ten years previously, and held faith that prohibition in America would be lifted and his whiskey would sell like a dream! Which it did. And made him his fortune as he had always believed!
The Second World War stopped production of Bushmills and a bomb attack on the Dublin offices destroyed all the company archives. But as the war ended and the boom years kicked in, production resumed and the whiskey proved as popular as it ever was. Demand in the USA rose substantially.
Bushmills celebrated 400 years in production in 2008. A huge occasion which saw the Bank of Ireland print pictures of the distillery on its banknotes! The late 2000's have seen famous names from stage, screen, music, art and design come on board to spread the word about this historic whiskey. Culminating in 2012 with a one-off live performance in the Old Bushmills Distillery which hosted 'Bushmills Live', celebrating the art of whiskey making through music.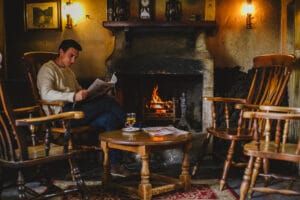 WHERE TO SAMPLE BUSHMILLS WHISKEY
Where better to sample Bushmills Whiskey than at The Bushmills Inn in Bushmills Village? Close by to the distillery, this Good Food Ireland Culinary Accommodation combines superb local food with comfortable guest rooms in this traditional historic inn, turned country hotel.